Introduced the kids to flounder last night and they loved it. I can't get over how adventurous they've been of late. Seems like only yesterday it was macaroni and cheese and fish sticks and frozen Salisbury steak all the time.
It was frozen flounder from Kroger, so I didn't have high hopes. I rarely have high hopes for frozen fish, but this was really good and relatively cheap (about four bucks for 5 small filets) so I was a happy cooking camper last night.
Served it with garlic herb parmesan risotto and sauteed spinach.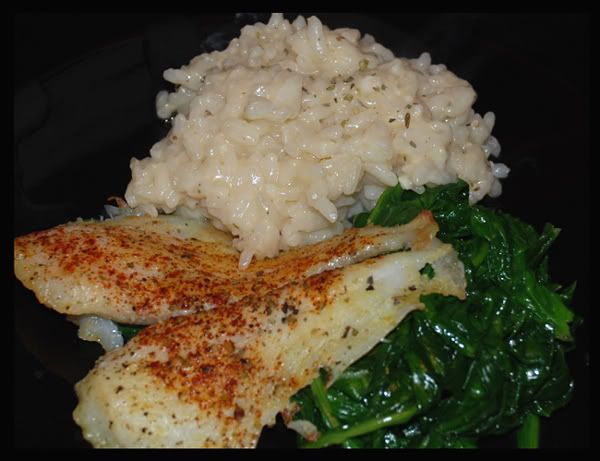 Baked Paprika Flounder
4 to 5 small flounder filets
butter cooking spray
salt
pepper
Italian herbs
paprika
Preheat oven to 400 degrees.
Spray baking sheet with cooking spray. Place filets on baking sheet and spray them lightly.
Sprinkle coarse salt, ground pepper, Italian herbs and paprika to taste. It's good with a lot of paprika.
Bake at 400 degrees for ten minutes or until white and flaky.
Garlic Herb Risotto with Parmesan
1 cup risotto
2 tablespoons butter
2 cans of chicken stock
2 cloves of garlic, minced
1/2 cup grated parmesan
salt
pepper
Italian herbs
Preheat skillet for risotto and heat chicken stock in a separate, but handy saucepan. (Pouring cold chicken stock into hot risotto makes for bad risotto.)
In hot skillet, melt butter and add one cup of risotto. (Do NOT rinse risotto, the starch that comes out while cooking is necessary for creamy risotto.) Stir gently and constantly until risotto becomes translucent with a still visible white core.
Add about a half cup of chicken stock (it will sizzle and boil) and continue to stir constantly.
You will know when it's time to add more chicken stock by running your (wooden) spatula or spoon across the bottom of the pan, if it appears dry except for a shiny layer of butter, it is time to add more.
During the chicken stock and stir process, add salt (not too much salt as it all cooks down and will become too salty by the end, I use a pinch and that's all) and pepper to taste. Add garlic. Add parmesan.
First taste test for al dente risotto should be at 15 minutes.
When risotto is done (between fifteen and twenty minutes), let rest in serving bowl for five minutes and then stir again before serving.
Then I made apricot coconut cookies for dessert. This is a no egg cookie recipe.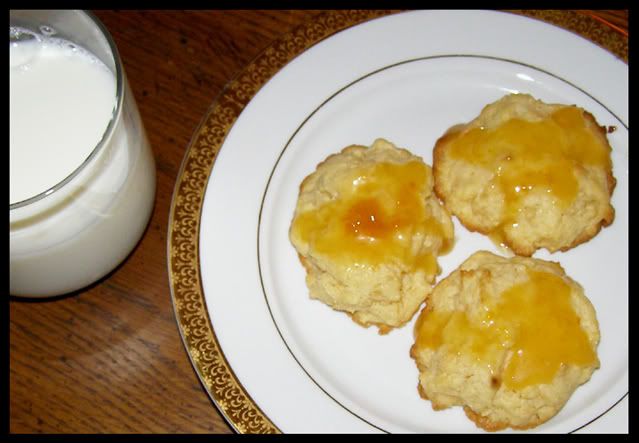 Apricot Coconut Cookies
1 1/4 cups all-purpose flour
1/4 cup sugar
1 1/2 teaspoons baking powder
1/2 cup cold butter or margarine
3 ounces of block cream cheese
1/2 cup flake coconut
1/2 cup apricot preserves
Glaze:
1/2 cup confectioner's sugar
2 tablespoons apricot preserves
1 1/2 teaspoons softened butter or margarine
1 1/2 teaspoons of cream, half and half, or milk
Preheat oven to 350 degrees.
In a large bowl, combine flour, sugar, and baking powder.
Cut in butter and cream cheese until it resembles coarse crumbs.
Add coconut and preserves and mix well.
Drop by rounded tablespoons about two inches apart onto greased baking sheet.
Bake at 350 degrees for 10 to 12 minutes, remove to wire racks to cool completely before adding glaze.
Glaze: Combine glaze ingredients in small bowl, mix well, and spoon over cookies.
Yields about three dozen.
Note:
My glaze is a little runny here and the reason why is I eyeballed the measurements for the preserves and the half and half, obviously using too much. I keep forgetting you can eyeball ingredients in cooking,
never
in baking.